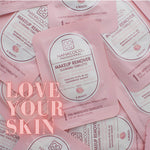 Happy August, Nanacoco Crew! This month we're launching our "Back to Basics" series, where we will be highlighting different types of products each week. For this first installment, we're talking all about skincare!
Skincare is the start of your skin's health-journey and lays the foundation for what you put on top of it. So, making sure that you're taking care of your skin is key! We want to bring you all in and let you know some of our skincare recommendations (faves?!), and how we use them!


We love this Korean beauty product because it can be used as a primer and/or setting spray! This vegan and cruelty-free spray is the perfect product to throw in your purse and mist it all over your face throughout the day to feel revitalized and refreshed (especially during these extra-warm months)! Plus, the subtle rose fragrance is pretty addicting!


 24K Gold Firming Peel Off Glow Mask

Not only is this mask a gorgeous gold shade, but it also leaves your skin looking pristine! The formula is intended to brighten and tighten your skin, helping you achieve more youthful-looking skin. We enjoy using this mask once or twice a week to relax while also tightening pores and removing that unwanted dead skin! Not to mention, this will be an ultimate-fave to add to your spa time selfies!

Makeup Remover Cleansing Towelette Singles
Ever been in that situation when you're putting on makeup and make a mistake? Yeah, us too. That's why we love throwing a few of these in our makeup bags wherever we go! Just one of these is all you need to take off ALL your makeup. Not to mention, they're individually wrapped, making them they're super convenient! You won't have to worry about them drying out or getting on anything else you have!
If you want to try out these towelettes, we got you Nanacoco Crew! For this week only, you'll receive the 20-piece Makeup Remover Cleansing Towelette Singles pack for FREE if you make a skincare purchase of $30 or over! Just make sure you add it to your cart after you have more than $30 worth of skincare, and you're all set!
 We hope everyone stays cool during this heat!
xo, Nanacoco