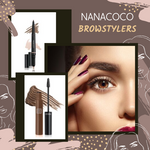 We all want perfect brows, especially since they are what frames and defines your face. But with so many different brow products on the market, it may be hard to decide which ones you should be using. At the end of the day, it may come down to trial and error based off of your personal preference, but we want to give you some more insight on what type of brow product may work best for you. In this article we will be diving into some detail about each product from our Browstylers collection.
Become your own brow inspo with our waterproof and smudge-proof, ultra thin, double-ended Browstylers Micro Pencil. The ultra-fine tip covers even the finest of hairs and creates thin hair-like strokes to easily add dimension to your brows. The spoolie helps to blend the product into your real brow hairs for a more natural look that will last all day and night. When using the Browstylers Micro Pencil, you want to apply it with very light strokes, since the goal is to mimic your natural brow hairs. Using a pencil is a little more tedious than other methods, like brow mascara, but it will give you the most realistic looking and defined brow.
The Browstylers Sculpting Pencil provides you with precise application to help you achieve full, multidimensional brows. Featuring a unique triangular tip, use the pointed tip to outline and create thin strokes, and the wide side of the triangular tip to fill in the sparse area. Finish up with the spoolie on the opposite end to smooth, blend, and groom your brows for a long-lasting natural finished look. 
The Browstylers Highlighter Duo is the ideal product to effortlessly define and highlight your arches. This 2-in-1 product defines, fills, and shadows your brows, while illuminating your brow bones. Featuring a retractable sculpting pencil and an illuminating highlighter that are both easily blendable with buildable coverage, this must-have duo will completely transform your brows. You can also use the highlighter side for the inner corners of your eyes to make your eyes pop. A duo product, like this one, is great to keep in your purse for any touch ups throughout your day or night. 
Brow mascaras are designed to cling to your brow hairs and skin to give the look of fuller brows. They are also great for taming and locking down your brows. Use the Browstylers Brow Mascara to get the brows of your dreams in no time. The perfectly sized small fiber brush will tame, shape, and define your brows making them look full and fierce in no time! Specifically formulated to build a full brow from scratch with its long-lasting, tinted gel formula. Color, shape, and seal your brows all at once!
Brow powder is our go to product for filling in and sparse areas or gaps in our brows. It also adds some volume and depth to your brows. The Browstylers Powder Kit features 2 blendable colors, 1 highlighter, and 1 brow wax- the perfect brow product to take on the go to tame your brows. This long-lasting, multidimensional formula will give your brows ultimate coverage by helping to shape, define, and sculpt. Each kit also includes a mini angled brush, sponge tip applicator, and spoolie. 
Enhance and define your brows with a creamy, waterproof, and smudge-proof eyebrow pomade. Nanacoco Browstylers Pomade will give you maximum coverage and precision to achieve brow perfection. This easy gliding, lightweight and long-lasting formula is ideal in all weather conditions and occasions. Brow pomade is certainly one of the most popular brow products for achieving maximum coverage. For application, use our cruelty-free Angled Eyebrow Brush for the best results.