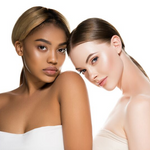 Whether you're wearing no makeup or a full face beat, the one thing we all have in common is wanting our skin to have that ethereal glow. From a soft and subtle shimmer to a blinding glow, it's all about perfecting your highlighting skills. With all of the different types of highlighters, alternative products, and techniques, it's hard to even know where to begin.
Types of highlighters:
Okay, where do we even start!? There are so many different types of highlighters and other products that you can use to get that glow. Highlighters can be bought in sticks, powders, liquids, and pots. You can also even use your favorite lip gloss or eyeshadow! Choosing which type is best for you will all come down to your personal preference and the look you are trying to achieve. Not only is the type of product important, but so is the color of it. It's best to pick a shade that is the same tone as your skin or a little lighter- you don't want your highlighter to be dark looking or too pale.
Our go-to method for choosing a highlighter is to use versatile beauty products, since it cuts down on the number of products we need to take with us when traveling. Check out our top 3 versatile products that will give you an unforgettable glow:
1. Glitzn Face and Body Pigment
Glitzn Face and Body Pigment is perfect to use for an unforgettable highlight! Our favorite to use is "Lemon". It'll give you a shimmery glow with a touch of gold. If you're looking for a rosy or more orangey shade then opt for either "Rose Gold" or "Orange Gold". If you want to use the Glitzn Face and Body Pigment as an eyeshadow as well, it's best to dampen your eyeshadow brush before application, in order to get the maximum amount of pigment.
2. Shimmertallics Metallic Lip Gloss
If a shimmering glossy glow is more your style, then Shimmertallics Metallic Lip Gloss is the way to go. Dab a little bit onto where you want to highlight and blend with your finger tip or a makeup sponge for the best results. "Frosted Glaze" is perfect for an icy iridescent look. If you're searching for that golden hour glow, try using "Sun Kissed" or "Gold Crown". Don't want that sparkly highlight and want to go more natural? Try using a clear gloss with no added shimmer.
If you're more into a creamy highlight, try out the Eyelusive Eyeshadow Pencil in shades "Royal" or "Rose Gold". This pencil is also great for an eyeshadow primer or regular shadow!
Where to apply:
We all know that highlighting across your cheekbones is a must, but what about trying to add a little highlight to other parts of your face and body?
Under and above the arch your brow: Adding some highlighter below and above your brows, will really define your brow shape.
The inner corner of your eye: This will not only help open up your eyes and make you look more awake, but it'll also make them pop.
The bridge of your nose: Applying a straight subtle line of highlighter down the bridge of your nose will help your nose look slimmer. 
Your cupids bow: Dust some highlighter on your cupid's bow for an illusion of fuller looking lips.
On your collarbone and shoulders: If you want to add a subtle overall glow to your body, use some liquid illuminator and mix it in with your moisturizer. If you are looking for a more noticeable glow, opt for a liquid illuminator that matches your skin tone and blend it on you collarbone and shoulders.
How to apply:
The best part about makeup is that there are countless methods for application, so you'll have to find which way works best for you. Highlighter can be applied with a sponge, highlighter brush, fan brush, your finger tips, or you can even mix it into your liquid foundation or favorite moisturizer.