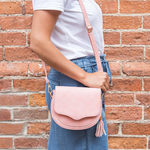 No matter where you're going, you most likely have certain items that you cannot leave home without. Think about it...your phone, wallet, sunglasses, lip balm, etc. In fact, most of the time you don't even realize that these are items you never leave the house without. Keep reading for 5 of our favorite products, that you'll never catch us without.

Part of our newest skincare launch, these individual makeup wipes are ideal for anyone always on the go.They are perfect to travel with, since they are individually packaged and you only need one wipe to take off all of your makeup....yes, even waterproof! The best part is that you don't even have to be wearing makeup to use them. Providing your skin with such a beautiful, moisturizing, and dewy glow; they are a perfect way to keep your skin looking fresh all day long.
You know that favorite lip gloss that is your go-to for 99% of your looks? Well this is it! Not only does this GlitznGloss provide your lips with a high shine and moisturizing finish, but this particular shade also provides your lips with a little extra pink tinted shimmer. You can purchase the Tea & Biscuits GlitznGloss individually or in the Sun Kissed Summer Lip Gloss Trio set.
This k-beauty fixing spray is definitely our holy grail. The hydrating mist will help you freshen up throughout your day while keeping your skin dewy and glowing. With its super lightweight formula and subtle rose fragrance, this will be your new go-to spray to help you look refreshed for wherever your day or night takes you. 
No such thing as perfection?....Well, not anymore. This luxurious HD Perfection Powder Foundation is fragrance free, paraben free, and contains vitamin E. Made in Italy, this soft and silky powder will give you full, buildable coverage with a velvet-smooth finish. Formulated with special Mica coated with amino acids, allows for this soft and silky texture and full coverage. Included in the compact is a super soft puff to allow you to easily blend powder on the go for a luminous, and natural finish. We love using this for touch-ups throughout the day- especially if we don't have time to stop home before going out at night.
If you prefer a Kabuki Brush over the puff that the powder foundation comes with, then this is a must-have in your purse. With dense, soft hair and a short handle, this brush works wonders for touch-ups on the go. Designed with newly innovated technology, to ensure you receive better pigment pickup. Being 100% cruelty-free, all of our cosmetic brushes are made with 100% synthetic fibers