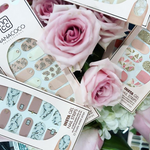 We can't help but to notice all of the gorgeous and oh so perfectly curated flat lays all over Instagram and Pinterest lately. They seem so easy to do too.... I mean, you just take a bunch of products, throw them together on a flat surface and then snap a quick photo, right? Unfortunately, it's not that simple and if you've ever tried to take a picture perfect flat lay then you definitely know the struggle is real. So what does it really take the get an insta worthy flat lay?

Stick to a theme
What makes flat lays so aesthetically pleasing, is the fact that each one has a theme to it. Almost always, you will notice a certain color scheme or related products because without a theme it will look like a mess of products randomly thrown together. We recommend always sticking to a certain color palette regardless of what you decide your theme is.
Choose your background wisely 
Backgrounds can be super distracting, especially if you want the focus to be on the products within your flat lay. The first step in choosing your background is to look at the products you are photographing and decide if you want a busy background or more of a solid one. Whatever you decide on, make sure that your background will enhance your image (not distract from it) and that it will coordinate well with your overall theme. 



Although the flat lay pictured above contains a very busy background, your focus is still on the products due to the contrast in colors. This is an example of how you can use a busy background and still highlight your products.
Shoot from above
Flat lays are always taken from above, so grab a chair and climb on up to get that perfect bird's eye view. Keep in mind, when shooting from above, not every product you want to shoot will look good from this angle. Practice testing out product placement, so you can see what works and what doesn't. Also, you want to be careful of creating unwanted shadows when taking your photo from above.



Think about your lighting
Whenever you're taking a photo, natural lighting early in the morning or during 'golden hour' is usually the best. This will make it much easier and quicker when it comes time to edit your shots. If you're shooting indoors, and don't have any sort of studio set up, then it'll definitely take a little bit of playing around to get your desired result. 
Get creative
Our favorite part about creating flat lays is the vast amount of creative freedom that you have. Gather together your favorite products, props, and accessories and let your creativity flow. Have fun playing around with different props, backgrounds, lighting, and angles to get the shot you are envisioning. Make your flat lays as simple or as intricate as you want- the sky is the limit! Keep scrolling for some of flat lay inspo.