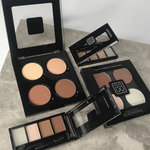 Chances are, your makeup bag or drawer is overflowing with product. With all of the colorful palette launches and brand new bold and bright lip collections lately, we know the essentials are probably the last thing on your mind. With that being said, when is the last time that you really took a look at your every day makeup products? Keep reading for our top 6 Nanacoco Professional beauty essentials that we seriously cannot live without.


Think
makeup wipes
are a thing in the past? Not anymore! With one single wipe, 99.9% of all oil, impurities, and waterproof makeup will be removed. We also love these wipes because the amount of moisture allows us to skip the serum step in our skin care routine. No matter what your skin type is, these wipes will literally work magic on your skin to give it a stunning makeup free glow! 
Formulated with lotus, peach flower, green tea, and rose extracts. These wipes are also alcohol-free, paraben-free, sulfate-free, phthalate-free, vegan, and cruelty-free.
We all love a good contour and this palette has all of the shades you need to become a sculpting pro. With each 
Contouring & Strobing Palette
featuring 4 gorgeous shades with a luxurious satin finish, you can easily define, add dimension, and illuminate your best features! 
One of our best sellers, the
HD Cover Concealer
, covers any acne, dark circles, or redness. Providing you with full, buildable coverage, it will soften the look of pores and fine lines instantly. We also love using multiple shades to contour and strobe, if we don't want to use our powder Contouring and Strobing Palette. This formula is also c
ruelty-free, gluten-free, and vegan!
Our professional
nail lacquer
formula is definitely a must have. Throw out all of your other polishes because this formula is cruelty-free, vegan, and 10-free! Don't know why a 10-free formula is so important...find out why
here
. This formula is also ultra fast drying and chip resistant featuring a super high-gloss finish. With 23 gorgeous shades available, it's hard to pick which color is our fav.
The
Browstylers Highlighter Duo
is our go-to brow product to effortlessly define and highlight our arches. We love 2-in-1 products, especially to take with you while you're on the go. The pencil will define, fill, and shadow your brows, while the highlighter end will illuminate your brow bones. Both blend seamlessly and provide the ultimate buildable coverage. The highlighter side is also great for the inner corners of your eyes to make your eyes really pop.
If you've been searching for a setting spray that will leave your face glowing and moisturized, this is definitely the perfect product for you. Not only will you get a glowing, long lasting finish with
Nanacoco Professional HD Perfection Setting Spray
, but it is also super lightweight with a subtle rose fragrance. This setting spray is formulated to help protect your skin from pollution and keep your makeup from smearing, smudging, or fading throughout the day.