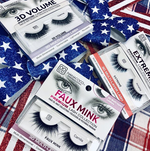 Here's to everyone who attempts to apply false lashes thinking they will come out looking flawless, when in reality your lashes end up popping off on the sides, looking super unnatural, or somehow end up in the middle of your eyelid with glue dripping down. Not to be dramatic, but it really is a real life horror story. Luckily, we have put together some of our favorite tips and tricks on how to perfect your lash application. 
Removing your lashes from the box:
If your lashes aren't marked with right and left, hold the pack under your nose with the lashes facing outwards to identify which one is right and left. To remove them from their packaging, we like to peel the lashes from the outer edge. Since we will most likely be trimming them a bit, it doesn't matter if the outer edge gets slightly bent, but still be as careful as possible. Gently wiggle your lashes out using tweezers and then let them rest on top of the box.
Measuring and trimming your lashes:
To measure your lashes, rest it along your natural lash line to see whether you need to trim the outer edges at all. The strip should start where your natural eyelashes begin. Don't start too close to the inner corner of your eye, because it will eventually begin to irritate your eyes. Your false lashes should end 2-4 lashes in from the outer corner. If you are trimming your lashes, always do it from the outside edge and don't cut through the lashes, always cut them at the vein.
Preventing lash pop-up:
Lashes tend to flatten when you remove them from the box, which may cause them to pop up at the inner or outer corners once applied. To avoid this, roll the lashes around a makeup brush and hold for a minute or so. This will help them to form better to the shape of your eye.
Application:
Start by dotting a thin layer of lash adhesive along the vein of the false lash, from corner to corner. We love using a lash adhesive with a u-tip applicator for easy and precise application. After applying the glue, wait about 30-45 seconds before applying the strip to your eyes, or until the glue becomes tacky. 
Actually applying your lashes may be a little tough, especially if you are new to wearing false lashes. The most helpful tip we have learned is to place a mirror in a position that allows you to be looking down instead of straight on. This will allow you to see the base of your lashes, which makes it easier to line up your false lashes on your lash line. Look down and using tweezers or your finger tips press the strip lash against your lash line in the center, the outer edge and inner corner. No worries if your inner or outer corners stick up a bit! If that's the case, then carefully add a little more glue to those areas. Another great tip is to apply your liner after your lashes, in case you have any bit of skin showing between your natural lash line and the lash strip.
Hopefully this quick guide helps you apply your false lashes like a pro. We want to know your favorite tips and tricks to getting a perfect lash application! Don't forget to tag @nanacocobeauty on Instagram and Twitter with all of your flawless lash looks and remember... practice makes perfect!