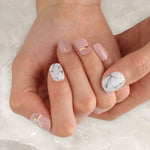 We are over the moon to introduce to you our brand new Nanacoco Professional Insta Gel Nail Strips! Available in 12 different trendy styles, these nail stickers will help you get fabulous nails with zero drying time! The best part about these stickers is that you can get as creative as you want with them. Use one set, mix and match different sets, or use your favorite nail stickers as statement nails and apply regular nail lacquer on the rest of your nails. 
When choosing a polish to pair with your nail stickers, opt for one made with a 10-free formula, like Nanacoco Professional Nail Lacquer. If you're wondering what a 10-free formula is and why it's so important, check out our blog post breaking it all down for you. Keep reading for the best polish colors to pair with a few of our fav Nanacoco Professional Insta Gel Nail Strips!
Get ready for the holidays with the "Cocktail Party" Nail Strips. Featuring striped, gold shimmer, and solid colored nail strips with gorgeous gold details. Wear this nail set all together or break it down and wear the striped or gold shimmer strips as accent nails. If you want to add more blue into the look, opt for Nanacoco Nail Lacquer in "Royal Freeze".
These "Pink Champagne" Nail Strips are super girly and fun. With different shades of pink, a hint of white, and some gold sparkles, your nails will certainly stand out. If you want to tone down the look a little, try applying the abstract strips on your ring fingers, then paint the rest of your nails with Nanacoco Professional Nail Lacquer in the shade "Bubblegum".

Animal print is never out of style! The "Leopard" Nail Strips are girly yet fierce. They're great for every day wear, since the colors are very neutral. The colors in this set pair best with Nanacoco Professional Nail Lacquer in shades "Sweet as a peach" and "Color me black". If you love leopard print, but darker nails are more your style, use the leopard print strips on any nails you want, then paint the remainder of your fingernails with "Color me black".

Bon Voyage! These nail strips certainly make us feel like we are sailing away on a much needed vacation. If you want to tone down the vacay vibes, try using a solid blue nail lacquer like "Deep sea blue" or "Royal freeze", with a glitter nail strip as statement nail on each hand.

How to apply your nail strips:
We would love to see how you wear your Nanacoco Professional Insta Gel Nail Strips! Show off your style and creativity by tagging @nanacocobeauty on Instagram and Twitter ❤