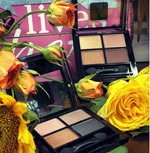 Autumn has arrived and Winter will be here before we know it, so it's time to switch up your look and dive into some of this season's hottest makeup trends. From a flushed face to voluminous lashes and luscious matte red lips, you'll be sure to want to try out at least one of these trends.
A Flushed Face 
Add a natural, flush to your cheeks this fall with HD Pressed Blush. Swiping on some blush will brighten up your complexion, while softening your look. Apply your favorite shade of blush to the apples of your cheeks as well as your lids, and pair it with a nude lip for an overall rosy look.
Golden Girl

We all want that golden summer glow to last all year round and now's your chance to make it happen. Stock up on bronzer and gold pigments this fall and winter. Use a bronzer on you cheeks and eyelids for an all over glow. For a nighttime look, go for a dramatic golden smokey eye and add a nice golden highlight on your cheeks. The extremely versatile Eyelusive Eyeshadow Pencil in "Royal" will give you that illuminating golden shimmer you've been searching for.
Fresh Face Beauty
With this trend, it's all about great skincare and minimal makeup. Since the colder months tend to dry out your skin more, it's important to keep your face nice and moisturized. To achieve this natural dewy look, we love to start off with super moisturizing makeup wipes, then apply an extremely lightweight foundation like the HD Perfection Liquid or Powder Foundation. Lastly, swipe on a bit of mascara, and a clear gloss, and you're good to go! 
Purple & Pink Hues
Incorporate some color into your nighttime look by using pinks and purple hues to take the harshness out of a dark smokey eye. Whether you want a softer hint of color, or to make a bold statement, be sure to incorporate some pink and purple into your look this fall and winter.
Monochromatic Makeup

Time to bring back those matchy-matchy looks we love oh so much! Monochromatic looks are being seen everywhere right now, from fashion to makeup. You can achieve this trend by using one versatile product or by choosing all different products that blend well together to create that one color vibe. 
Voluminous Lashes
Layering season is here, and we aren't just talking about your clothes. Pack on the layers of mascara this fall and winter for ultra-thick, luscious lashes. Do so on your top and bottom lashes for an extra dramatic lash look.
Matte Red Lips
A red lip is always a go-to for a statement lip, but now a strong red lip is being seen paired with bare, dewy skin and very minimal make-up. This is one of our favorite ways to combine a minimalist look, with a pop of color!