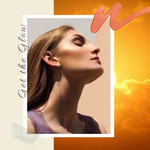 Golden hour is that short period of time around sunrise and sunset every day and boy is it magical. The soft, warm light, creating a dreamy natural glow on your skin is what we all wish for 24/7. Luckily, with the right makeup and some tips and tricks you can nail the perfect "golden hour glow" all summer long.


When going for a glowy summer look,
It's all about your color palette! Use
 shades of copper, gold, brown, pink, or nude for a more natural sun-kissed vibe. They key is to get that glistening skin without looking like you have a full face of heavy makeup. 
Eyes
On your lids, we recommend using the
Eyelusive Eye Pencil
 in "Royal" to add a highly pigmented shimmer. If you want to take that shimmer up a notch, apply some 
Glitzn Face & Body Pigment
on top. When applying the Glitzn Face & Body Pigment, wet your brush first for the best results!
We also love to use the same Eyelusive Eye Pencil to highlight our brow bone. If you are looking for a more subtle shimmer, or want to add a little definition and color to your lids, use the "Elegant" 
Eyeshadow Quad Palette
. For eyeliner, we try to stay away from heavy black liner, since we want a more natural look. If you still want to include liner in your look, try out a soft brown or 
Gold Longwear Eyeliner
 for a highly pigmented metallic wing.
Face
Use the top 2 shades of the palette to accentuate your natural features- Apply them in the center of your forehead to illuminate the center of your face. Next, apply some along the bridge of your nose and the apples of your cheeks. To create fuller looking lips highlight the section between the tip of your nose and top of your lip. Finally, apply to the center of your chin. Use the bottom 2 shades of the palette for a more sculpted look. Apply below hairline at the top of your forehead and on either sides. To create a skinnier looking nose apply along the left and right sides of your nose. Slightly enhance your cheekbones by applying in the hollows of your cheeks-to find them, just suck your cheeks in!
If you decide to add some blush to your look, we recommend using the
HD Pressed Blush
in Peach Coral or Bright Orange to create a warmer sun-kissed glow.
Lips
For your lips, opt for a gloss like
Shimmertallics Metallic Lip Gloss
to give your pout that extra sparkle and shine. You can wear it on its own or layer it over top of your favorite nude or pink lipstick. If you want to add a little pop of color to your glowy look, the
GlitznGloss Lip Gloss
in the color "Hot Ride" is the perfect shade of bright pink.
Body
If you want to take your glow a step further, apply some of the Glitzn Face & Body Pigment or the Eyelusive Eye Pencil you used on your lids to your collar bones and shoulders to give them a nice shimmer.


Purchase 1 or more items from our Summer Glow collection and get a free sample of our best selling 24k Gold Firming Peel Off Glow Mask with your purchase!