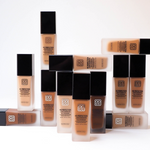 A poor foundation application or using the wrong shade can seriously make or break your look. Unfortunately, we all don't know how to properly apply our foundation since it's not that simple to perfect. It's time to take a look at the most common foundation faux pas and how to fix them.
1. Not choosing the right shade or formula
In order to start the process of choosing your perfect foundation shade, you need to figure out your skin tone and undertone. Remember, your foundation shouldn't be clearly noticeable. If it is, then you are definitely using the wrong shade! If you've done your research and are still unsure if you are choosing the right shade or not, check out our Love it in 30 Days Guarantee policy.
Another huge factor playing into how your foundation looks is what formula you are using. We always recommend using a formula that's lightweight and provides buildable to full coverage like the HD Perfection Liquid Foundation.
This formula provides you with a water resistant, velvety smooth finish and is great for all skin types! 
Formula Features:
Cruelty-free
Vegan
Mineral Oil free
Paraben Free
Phthalate Free
Synthetic fragrance free
Sulfate free
Special Ingredients:
Hexyl Laurate - Skin-softening agent and emollient
Palmitic Acid - Acts as an emollient, which can improve dry and flaky skin as well as conditions like psoriasis and eczema.
Tocopheryl Acetate - A form of vitamin E, an antioxidant, which helps fight free radical damage and promote skin healing to diminish signs of aging. It also provides moisture and strengthens skin's protective barrier to prevent moisture loss.
Vinyl Dimethicone/Methicone Silsesquioxane Crosspolymer - Matte effect that fills in fine lines and leaves the skin with a soft feeling.
If you are more into powder foundations, the HD Perfection Powder Foundation is definitely one you'll want to try. Made in Italy, this formula feels like an expensive and luxurious soft and silky powder. Luckily, for only $28, it won't be breaking the bank. 
Formula Features:
Cruelty-free
Paraben Free
Fragrance free
Contains vitamin E
This foundation also comes with a super soft puff, so you can easily apply your powder on the go.
2. Not properly prepping your skin
Skin prep is often over looked when it comes to your daily makeup routine, but without the proper base your makeup won't apply as smoothly. Make sure to use your tried and true skincare products and primer before applying your makeup and you'll notice a huge difference. If you aren't a morning person and don't want to spend the time to fully prep your face, our Makeup Removing Cleansing Towelettes work great as a simple prep the night before. We love to use one right before bed, so when we wake up our faces are feeling super silky and moisturized.
3. Applying your makeup in the wrong lighting 
Good lighting plays such an important role while doing your makeup. If you are doing your makeup in a dimly lit room, your makeup will tend to come out more streaky. The best way to do your makeup is in natural lighting. Try doing your makeup near a window, so you can get as much natural light as possible. If you can't do your makeup in natural lighting, try out a makeup mirror with different light settings.
4. Using the wrong tools for application
The tools you use for application will vary depending on the type of foundation you are using and your own personal preference. So what are the different options you have?
Makeup sponge
Makeup sponges are great, but when you use them for foundation you will actually be wasting a lot more product than you realize. The sponge tends to absorb a lot of product. If you decide to go for it and apply your liquid foundation with a sponge, make sure to wet it first and squeeze out any excess moisture. This will allow for a more seamless application.
Brushes

When choosing the right brush, always choose one with synthetic bristles versus real animal hair.
Our go-to brush for liquid formulas is the 904 Liquid Foundation Brush. Even if it's your first time ever applying liquid foundation, this brush makes for an extremely easy and streak-free application!
If you are using a Powder Foundation, we find that the 912 Kabuki Brush gives us the best results for that smooth and flawless finish that we are all searching for.
Both of these brushes are cruelty-free and made out of 100% synthetic fibers. They are also insanely soft and feature gorgeous rose gold handles.
Your fingers
Some people love using their fingers to apply makeup since it's more convenient and then you don't need a million different brushes. As far as applying foundation goes, we would opt out of using our fingers to do so. Using your fingers to apply any type of liquid foundation will increase the risk of unevenness and streaks. Also, your fingers hold natural oils so it can result in a higher chance for breakouts.
5. Applying too much
When dealing with foundation, less is more! You should only be applying foundation where it's necessary in thin layers. Doing so, will help you to not overdo it resulting in that heavy caked up look. If you're using liquid foundation, remember to always squirt it onto the back of your hand versus directly onto your brush or face, to help ensure you aren't applying it too heavily.