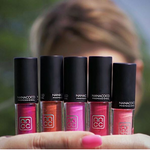 We all love our tried and true products, especially when they don't break the bank. From my go-to versatile items, to my every day staples, keep reading for 7 of my favorite Nanacoco Professional products all $10 and under. It's time to start looking like a million dollars, without spending a million dollars.
This eyeshadow pencil is truly AMAZING. The first shade I tried out was actually In the Night, since I wanted to create an intense smoky eye for Halloween this past year. After using it that one time, I could not wait to try the others. My favorite shades at the moment are Golden Globes, Rose Gold, and Cappuccino. Not only are they extremely creamy and blend effortlessly, but they also work as a versatile product. Whether you're using your's as a highlighter or eyeshadow, you'll be amazed at how great this product is for only $8. 
This Black Lash Adhesive, which also comes in clear, features a unique u-tip applicator that allows for precise and easy application, even if it's your first time ever applying false lashes. Also, it's formulated with biotin, is water and sweat-proof, latex-free, and cruelty-free. For only $5.00, you really can't beat it, especially if you wear lashes on the daily.
A great concealer is a must have for every makeup bag, especially one that is hydrating. I don't even want to begin to go into the number of concealers I've tried over the years that just simply didn't cut it. Between drying out my skin, to not providing enough coverage, it really seemed like a never ending battle. Luckily, that battle is over because the HD Cover Concealer gives me full buildable coverage while minimizing the appearance of pores and fine lines. When applying the concealer, I always use the 907 Concealer Brush to ensure a well blended application. You can also use this concealer in a shade or two darker to create a well blended contour, even though I prefer using the Contouring & Strobing Palette.
I actually have never really been a huge fan of blush until about a year or two ago. Since I started incorporating some into my daily makeup routine, I never want to go without it. Whether you are going for a sun kissed summer glow, or wanting to add some color to your "winter complexion", blush will make a noticable difference. The HD Pressed Blush has a silky texture and a buildable formula that blends effortlessly on your cheeks. Feel as good as you look, because this blush doesn't contain parabens, is cruelty-free, gluten-free, and vegan. Did I mention it's only $9 and it lasts for what seems like forever. Since it has such amazing pigment, all I have to do is tap my brush once or twice in it and it gives me plenty of pigment. My top two shades are Shimmery Dusty Rose and Fuchsia. Since these blushes have such great pigment, I also love to use them as an eyeshadow.
I'll have to admit, I am super picky when it comes to lipstick. A lot of lipsticks tend to dry out my lips, which just ends up making my lipstick look absolutely terrible, so I usually opt for balms or glosses. Coming from someone who is not a lipstick lover, the Liptastic Lipstick is phenomenal....especially if you usually tend to steer clear of lipsticks due to drying out your lips. The satin finish keeps your lips moisturized all day, while providing intense pigment. In fact, this lipstick has replaced my every day balm, since it's so silky smooth and moisturizing. With 12 different shades available, there really is a shade for any occasion. Personally, I love layering Pink Champagne and Autumn Breeze to get a perfect nude lip. 
If a good gloss is your go-to lip, then for only $9.00 a piece, you'll want to buy all 14 shades of GlitznGloss Lip Gloss. If you are an avid lip gloss wearer like myself, then you definitely know how horrible it is when you are excited to try a new gloss and then you apply it and it feels like you just spread glue all over your lips. These GlitznGlosses drew me in initially because of how stunning the shades are, but once I used them I realized how amazing the non-sticky formula is.
My top three shades (if I absolutely had to choose):
Tea & Biscuits- This is by far is my favorite shade. This is my everyday gloss that I refuse to leave my house without. It's mostly sheer, but provides your lips with a healthy looking light pink tint and a little shimmer. 
Pleased- With almost an iridescent look, this shade is my go-to for a girl's night out. It gives my look a beautiful pop of color without going overboard.  
Sweet Cinnamon- This shade caught my eye right away, since it has a slight metallic look to it. Sweet Cinnamon is another great every day shade, especially if you're looking to add some pigment to your lips.
I always have to have my nails looking on point, otherwise I feel completely naked. Unfortunately, my salon trips have been on the back burner lately due to a busy work and social schedule. Luckily, the Insta Gel Nail Strips have been lifesavers....and no, I'm not exaggerating one bit. With easy and fool proof application, you can get trendy statement nails in well under 20 minutes. Also, if you're always on the go, you can now do your nails literally anywhere! Although each of the 12 styles are super cute, I always end up sticking (no pun intended) with the Leopard styled stickers.
I hope you enjoyed reading more about my favorite Nanacoco products all under $10 and would love to hear what your's are! Lets us know on Twitter what your favs are by tagging @Nanacocobeauty and using the hashtag #MyNanacocoFavs.