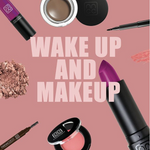 Cheers to our first of many posts in our new Beauty Hack series! Stay on the look out for a new hacks to help make your Mondays a little easier. In our first post of the series, we are focusing on our favorite 6 beauty hacks that you can do with one item everyone is sure to have...a spoon! From cutting the perfect crease to becoming a contour queen, using a spoon will be sure to simplify your Monday morning makeup routine.
Cut the perfect crease
Ever struggle to cut the perfect crease? Try using a spoon to help you out! Place a spoon over your eye and let the edge of it rest where your socket line is. Now, apply your darker colored eyeshadow along the edge of the spoon. After you're done, lift up the spoon and voilà- the perfect cut crease!
The Nanacoco Professional Eyeshadow Quad Palette in "Vibrant" is our go-to summer palette to get that bright tropical vibe.
The ultimate wing
Winged eyeliner can certainly be tricky to master and can turn out looking quite wavy if you can't keep a steady hand. Try lining a spoon's handle up with your lash line to use it as a stencil to create a perfect upwards wing. From there, you can either fill in the top on your own or you can flip the spoon- connecting the spoon's curve to the end of your already drawn line. Make sure it also hits the middle of your lash line. After your full outline is stenciled on, go ahead and fill it in.
Keep your mascara from getting everywhere
This is definitely our favorite makeup hack! Hold your spoon under your lashes while applying your mascara to ensure none of that pesky smudging ruins your eye shadow. You can use this trick for your lower lashes as well. Not only will this prevent smudging, but it also gives your lashes a nice natural curl. If you want dramatically longer and fuller lashes, we recommend using the HD Extreme Volume, Curl, and Lengthening Mascara.
Become a contour queen
Ever have trouble contouring properly to get those perfectly defined cheekbones? Place the inside of a spoon against the apple of your cheek and apply your contour along the bottom edge. This will make for a perfect contour. We love using the Flat Contour Brush to apply the Contouring & Strobing Palette for ultimate definition. 
Minimize puffy under eyes
Waking up in the morning for work and seeing your tired, puffy under eyes can feel like a horror movie itself. To reduce your puffiness, apply a cold metal spoon to your under eyes for a few minutes. It's best to keep one or two spoons in the freezer or fridge at all times so you're always prepared to combat any puffy under eyes.
Get brows that wow
This is a hack that may not work for everyone, but it's certainly worth a shot! Start by aligning the curved edge of the spoon just below your brow and go to work with your normal brow routine. The spoon will help you create a much sharper and defined brow with no guess work on where to fill it in. Here are our favorite brow products:
 Hopefully these 6 beauty hacks will help make your Monday a little easier- they definitely helped us! Remember to check back next Monday for an all new beauty hack.