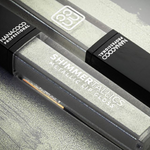 Yes, you read the subject line right and you AREN'T going cross-eyed from overdoing it this past Memorial Day weekend! Lip gloss can totally be used as a highlighter, eyeshadow, blush, and more. Our Nanacoco Professional Shimmertallics Metallic Lip Gloss was recently featured on the Zoe Report as a multi-use item. The Zoe Report states that lip gloss can be used as a face highlight, an eye gloss, or even an eye liner.
Want to achieve that Kim Kardashian wet look from the Met Gala? You're welcome.
Photo credit IMAXTREE 
"Gloss is the perfect makeup product because it will give the natural glow of a high-end editorial look without you having to spend an hour on your makeup," one of our biggest Nanacoco supporters, Celebrity Makeup Artist Geo Brian Hennings, who works with Idina Menzel, says. "Pro artists have been doing it for years on photoshoots."
Even with so many lip glosses on the market being of a more slightly sticky consistency, this tried-and-true makeup artist hack has been used on some of the most recognizable faces in the beauty and fashion world. This go-to trick is what we call the "wet" look.
According to the Zoe Report, most makeup artists agree that the lip gloss used on the face needs to have a buildable, hydrating, and smooth formulation. Thankfully Nanacoco lip glosses (especially our Shimmertallics Metallic Lip Gloss) consists of a non-sticky formula that won't make your hair stick to your eyes, lips, or cheekbones! 

Below are some of our favorite uses for our Shimmertallics Lip Gloss, as mentioned by the Zoe Report. 
As a Highlighter 
Photo credit Shutterstock
The trick is to take a small amount of gloss and dab it ever so slightly onto the apples of the cheeks and blend out to the high points of the cheekbones. The key to achieving a naturally highlighted look with lip gloss is to blend, blend, blend! The natural oils and warmth of your fingers will help distribute the product seamlessly. 
Hennings who interviewed with the Zoe Report explains, "Because of the high pigment and the smoothness of the formulation of the lip gloss, blending is a breeze." Celebrity makeup artist, Kathy Jeung, who created Rita Ora's Met Gala 2019 makeup look with Nanacoco Professional makeup products, suggests using a makeup sponge to blend out the lip gloss. 
Photo credit the Zoe Report

Buy here: Shimmertallics Metallic Lip Gloss in the shade Fall Rush
(Don't let the coppery metallic hue scare you; once dabbed into the skin, you will get a beautiful bronzy highlighted effect) 
As a Blush 
Nanacoco Professional Shimmertallics Metallic Lip Gloss comes in a variety of colors. Though a newer technique for us here at Nanacoco, we can guarantee that there is a hue that can be used as a blush or light bronzer for any skin tone, texture, or type! Our go-to for a bronzy "wet" look is the Shimmertallics Metallic Lip Gloss in Fall Rush. We highly recommend the shades Luscious and Hollywood Fever as two of our favorite universally flattering Shimmertallics Metallic Lip Gloss shades used as blush.
The trick is to lightly dab on the highest parts of the cheekbones. Once the wash of color is applied, the goal is to let the gloss be the star of the show. The natural sheen of the gloss will shine once the light catches the face right. 
Photo credit Shutterstock
As an Eye Gloss 
Photo credit Shutterstock
This trick is easy to recreate and so satisfying to look at when done right! The beauty world went crazy for the wet lid trend when Kim Kardashian arrived on the red carpet of the 2019 Met Gala. Her faux-wet look was inspired by Sophia Loren's iconic wet dress in the 1957 film, "Boy on a Dolphin."
Photo credit Kim Kardashian Instagram 
This look can be achieved by dabbing the center of the lid with any gloss from our Nanacoco collection, such as the Glitzn Gloss or Shimmertallics Metallic Lip Gloss if the desired look is more of a wet metallic one.  
Celebrity make up artist, Melissa Hernandez, who mostly used Nanacoco Professional makeup on Dove Cameron for the 2019 Oscar's Vanity Fair After Party, also used our Shimmertallics Metallic Lip Gloss in Frosted Glaze to highlight Dove's lids. 
As an Eyeliner
Yes, you heard that right. According to the Zoe Report, lip gloss can be used as an eyeliner on the lid! Add an extra emphasis to the lid by placing a metallic or glittery lip gloss tightly on the lash line. Our Nanacoco Professional Shimmertallics Lip Gloss in Gold Crown and Luscious are the perfect shades to give you a beautiful metallic gold or hot pink line. 
As always, makeup application has no rules! Be your most creative and authentic self and create a work-of-art. 
--
Love you, beauties! 
xo Nanacoco Professional Team