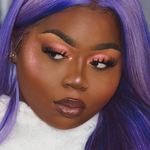 The next amazing woman we are featuring is Marly, or most of you may know her as LVNDRBEAUTY. Marly not only inspires us but also amazes us by her dedication and passion for what she does and how supportive she is of others in the industry. She is the true definition of a #GirlBoss in the making. Whether she's creating a fun and colorful look, doing a soft glam, or even making her own wigs, she's always putting her all into her work and she's definitely one to watch out for in the beauty industry. 



Tell us a little about yourself and your accomplishments.
I'm Marly aka LVNDRBEAUTY and to be honest, everything that I've accomplished last year has honestly shown me that anything is possible and I'm ready for more!
Who are your biggest female role models and why (can be someone in your personal life, celebrity, etc.)?
My biggest female role models are Lizzo, Beyoncé, and any women who make a name for themselves without handouts. I love hard-working women! Self-made is the goal!  
If you could give your younger self one piece of advice what would it be?
KEEP GOING! It will work out stop stopping and keep going! What you work for is already yours 💜
If you are ever in a slump, how do you bring yourself out of it?
Just work, if I'm in a slump doing a bright makeup look gets me right out of it. 

How does social media affect your mental health?
Social media can be rough on mental health but I personally have a good balance between real life and socials. 


Given your previous answer, what is one thing that you would change about today's social media in general and why?    
The bullying! It needs to stop! It's killing people. We must be kind to each other. 



Why do you think it's important for women to support each other and lift each other up in day-to-day interactions and on social media?
It's important because it shows our daughters that girls are friends and not enemies! We never know what someone is going through it's always a better idea than not to uplift someone.
What are your short-term and long-term goals for your personal life, career, etc.?
I want to be in a campaign, I want to be truly happy and secure in life financially. I want to be the face of my own collection.  
Name one Nanacoco product that makes you feel more empowered, confident, and beautiful.
The HD Perfection foundation gives my skin a boost and makes me look flawless. 

💖 Make sure to follow Marly on Instagram, Twitter, and YouTube  💖