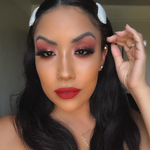 Next up in our International Women's Day blog series is Tiffany, also known as @taffymariex on Instagram. Not only is Tiffany a mother of two, but she is also an amazing self-taught makeup artist with her own business. Keep reading to find out more about Tiffany, her accomplishments, goals, views on social media, and how she brings herself out of a slump.
Tell us a little about yourself and your accomplishments.
My name is Tiffany also known as @taffymariex on Instagram. I'm 26 years old a mother of two. My accomplishments include starting my own business! Tiffany is a self-taught professional makeup artist and has 30.3K Instagram followers.
Who are your biggest female role models and why (can be someone in your personal life, celebrity, etc.)? 
My mother is one of my biggest role models and that's because growing up we didn't have a father there and she did her best to take care of 3 girls by herself! She was working two jobs, making sure we had what we needed for school. She took us on trips and showed us we didn't need a man. She showed us what independent women look like. 
If you could give your younger self one piece of advice what would it be?
To stay away from the streets; it wasn't worth getting into trouble all the time! But I learned my lesson and I'm proud of the women I am now. 
If you are ever in a slump, how do you bring yourself out of it? 
I tell myself, God got me & I try to watch YouTube videos to keep myself going. Also, I just look at my kids and they just keep me going to be better for them and myself. 
How does social media affect your mental health?
Honestly, the hate on there can break someone. Trying to stand out on social media can affect your mental health. 
Given your previous answer, what is one thing that you would change about today's social media in general and why?     
Omg, I would change the "fake pages". Those need to be taking down. Bullying is not right. 
What are your short-term and long-term goals for your personal life, career, etc.?
My short-term goal is to work with Nanacoco or to collaborate with a makeup brand! The long term is to be my own boss!
Name one Nanacoco product that makes you feel more empowered, confident, and beautiful 
Oh, the HD Perfection Foundation makes me feel like a new woman. I love it! Also, the skincare items also make me feel very powerful and clean and confident in my own skin. These items make you feel beautiful whether it's the makeup or skincare line. If you want to feel beautiful in makeup, they got it! The skincare makes you glow. My favorite is the Makeup Remover Towelettes they take my makeup off right away and makes my skin feel like a baby. Thank you Nanacoco for making me feel confident, beautiful, powerful! All with your amazing beauty line.  
 💖 Make sure to follow Tiffany on Instagram, Twitter, and YouTube  💖