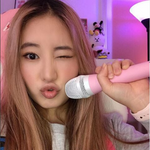 Next up in our mini blog series is actress, singer, and songwriter, Megan Lee. You may recognize her from Youtube, Instagram, the Nickelodeon series "Make It Pop", TV commercials, or maybe even from Season 14 of The Voice. Keep reading to hear all about all of Megan's accomplishments and goals for the future.
Tell us a little about yourself and your accomplishments.
I'm an Actress and Singer-Songwriter and I've started working since I was around 10 years old doing commercials, tv, and film. I worked on many small roles and projects and at 13 discovered Youtube. I started posting covers to express my passion for music and performing and was lucky to find a platform that allowed me to reach audiences around the world. I then moved to Korea at 15 and got signed to a record label and had a short time as a Kpop star releasing some music. Since then I've written music for GG's Taeyeon and Exo's Baekhyun and others. Many also might know me as the lead of Nickelodeon's "Make it Pop" series. I continue to make content on social media like Instagram, Youtube, Twitch and now Tik Tok!
Who are your biggest female role models and why (can be someone in your personal life, celebrity, etc.)? 
My mom is definitely my biggest role model. She has always taught me to love and be myself and all throughout my life and career she was there and supportive of me. 
If you could give your younger self one piece of advice what would it be?
I would tell my younger self to not be so polite and nice to the point that I would sacrifice and hide what I truly want. As Asian Americans and also as females we were brought up and taught to suppress our feelings and to always be "good". I'm very proud of my morals and values that I have been taught and believe in however I feel like a part of me that is an outlier shouldn't be afraid to show more of that side of me and come out stronger.
If you are ever in a slump, how do you bring yourself out of it? 
Finding hobbies that have nothing to do with my work are very important to me as well as spending time with friends and family. These days I'm into cooking so I find joy through that it helps me feel fulfilled even during my slumps.
How does social media affect your mental health?
Oh, I definitely have a love and hate relationship with social media. It stresses me out. I'm alive in the moment type of person and sometimes, having to constantly worry about what post I have to make next and remembering to take pictures and worrying constantly about "staying relevant" takes a toll on a person who's career basically revolves around social media. We are all affected by it, comparing each other's life/career highlights and always putting a "front". It's definitely not easy but I take a detox from it once in a while and also remind myself to not take it so seriously. Because at the end of the day, if we didn't have the internet we are left with reality and the truth of who we are.
Given your previous answer, what is one thing that you would change about today's social media in general and why?     
I would take out numbers completely. We are already constantly judged by our numbers since we were kids in school and as adults with social media. I think it would take so much pressure off of everyone if we were to take out publicizing numbers on social media (Instagram already starts with likes for some accounts but we definitely need more change).
Why do you think it's important for women to support each other and lift each other up in day-to-day interactions and on social media?
We can definitely get lost in our thoughts and unintentionally start comparing and think negatively about ourselves because our lives are so different from each other. I think women having positive interactions on social media are just as important as in-person interactions because it is a good reminder that you are not alone and at the end of the day we all just want to be loved and supported. Spread more love and encouragement NOT HATE.
What are your short-term and long-term goals for your personal life, career, etc.?
I would love to start building a merch/fashion line that really represents my mixed aesthetic, release new music this year and possibly work on a big film/tv project again soon!
Name one Nanacoco product that makes you feel more empowered, confident, and beautiful.
Eyes are the most important feature in makeup for me and I feel my best with Nanacoco's finest or boldest eyeliners! I can make eyes pop in both subtle and bold ways and always makes me feel like I can really express myself in the most authentic way! 
We are huge fans of Megan's and are so impressed with everything she has accomplished in her life. Being only 24 years old, we cannot wait to see what the future has in store for her! 
💖 Be sure to stay up-to-date with Megan and follow her on Instagram, Twitter, YouTube, Facebook, and Twitch 💖