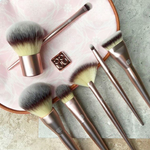 It's time to simplify your makeup routine! No more dreading waking up for work and spending an hour doing your makeup. Even though it's pretty therapeutic to sit there and spend an ample amount of time perfecting your look, what about those days when you're running super late or are feeling too lazy to do a full beat? In honor of today being National Lazy Day, keep reading for your new under 10 minute makeup routine!


No matter how much or little makeup we are wearing, brows are always a must! Browstylers Brow Mascara will effortlessly give you the brows of your dreams. Featured in Oprah Magazine, this must have brow product has a perfectly sized small fiber brush that will tame, shape, and define your brows making them look full and fierce with a few light swipes. Specifically formulated to build a full brow from scratch with its long-lasting, tinted gel formula. Color, shape, and seal your brows in the blink of an eye.


Mascara is definitely another must in our beauty routine, no matter how little time we have. With one quick sweep, your lashes will instantly be longer and fuller. This rich black pigment will have you saying goodbye to any smudging or clumping. You will see noticeably volumized, extra curled, lengthened, and thick lashes with this long-lasting formula.
Dab on your concealer wherever you need to cover up any dark spots, redness, or blemishes and blend well. Suited for all skin tones and types, this hydrating high definition concealer will be your new best friend. With full, buildable coverage it will soften the look of pores and fine lines instantly.
Blush seemed to of been the forgotten makeup essential for quite some time, but luckily it is back in style because it really does make all the difference! When doing a quick makeup routine, it's best to choose a shade that will look closest to your natural flush. You can achieve a beautiful flush to your cheeks in a matter of seconds with our HD Pressed Blush. Available in 6 highly pigmented matte and shimmering shades. This lightweight, buildable formula delivers a natural and healthy-looking complexion. With a silky smooth texture, this blush will blend evenly and glide effortlessly across your cheeks. Nanacoco Professional HD Pressed Blush does not contain any parabens, is gluten-free, and cruelty-free.
The Nanacoco Professional Eyelusive Eyeshadow Pencil was featured in StyleCaster as one of the best ways to "Wake up With Makeup, According to Makeup Artists". Use one of these eyeshadow pencils to highlight the inner corners of you eyes, brow bone, cheeks, the bridge of your nose, and your cupids bow for an overall glowing look. This weightless and creamy formula is super easy to blend for a natural shimmer. 


Add a swipe of lip creme as you're running out the door and everyone will think you really put some time and effort into your look, and not like you got ready in less than 10 minutes. Lightweight and mousse-like, this formula delivers intense color in just one stroke! Waterproof, smudge-proof, and kiss-proof, with 16+ hour wear. This ultra saturated, moisturizing, velvet creme transforms from a soft creme to a comfortable matte. The formula is full-coverage and super pigmented, without drying out your lips!
Now that you know our favorite under 10 minute makeup routine, we want to know yours! What are your go-to products and methods to creating a fresh look if you're running late or feeling lazy?