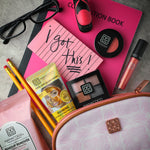 It's that time of year, when we all start to revamp our wardrobes and most importantly our makeup bags to head into the new school year with a fresh new look. With an overwhelming amount of brands and products to choose from, you may feel like your head is spinning in circles when deciding which new items to give a try. Luckily, we have made it a little easier for you! Keep reading for our favorite Nanacoco products that are a must have in your makeup and beauty collection this school year.

This gloss not only has insane pigmentation, but it also gives you a high shine, long-lasting finish without feeling sticky on your lips. GlitznGloss Lip Gloss is not only one of the longest wearing lip glosses on the market, but will also leave your lips feeling super soft and moisturized. For a subtle, light, glossy daytime look, "Tea and Biscuits" and "Touch of Fall" are our all time favorites. If you're looking to add a pop of color to your look, go for an eye catching shade like "Viva La Glam". 

After a long day or night, we all hate the process of having to take all of our makeup off. Luckily, with Nanacoco Professional Makeup Removing Cleansing Towelettes, it's as simple as using one wipe to gently remove 99.9% of all makeup...even waterproof! This K-beauty product, will brighten and moisturize your skin while removing all impurities. Formulated with lotus, peach flower, green tea, and rose extracts, these wipes are great for all skin types and are alcohol-free, paraben-free, sulfate-free, phthalate-free, and cruelty-free!
Add a natural, beautiful flush to your cheeks with HD Pressed Blush. Available in 6 stunning matte and shimmering buildable shades, this blush will blend evenly and glide effortlessly across your cheeks. The shades "Bright Orange" and "Fuschia" are also great to use on your lids to add a pop of color for a monochromatic makeup look. This formula is also great because it is gluten-free, cruelty-free, and doesn't contain any parabens.

Fresh and glowing skin is what we all dream of and with Nanacoco Professional Peel Off Glow Masks, you can certainly achieve that. Choose from our Black Pearl, 24K Gold, or Glacier Water Mask.
Infused with natural active black pearl, the Black Pearl Revitalizing Mask works to brighten, clarify, and moisturize your skin. Improve your skin's radiance without disturbing your natural oils in only 20-30 minutes!
The 24K Gold Firming Mask is amazing for nourishing, lifting, and rejuvenating your skin after a long day. Brighten and smooth your skin while achieving a tighter and more youthful appearance. Not to mention, this mask is also a gorgeous gold color...I mean who wouldn't want to end their day with a luxurious 24k gold mask?!
Soothe, purify, and refresh your skin with the Glacier Water Hydrating Mask. Glacier water is rich in minerals that will pull dirt from your pores and remove any dead skin cells. Use this mask and your face will feel moisturized and silkier than ever.
This makeup bag is not only adorable, but it's leak proof, spill-resistant, and water-resistant. The Floral Print Makeup Bag is the perfect size, so you can fit all of your everyday essentials in one place.

This is our go-to palette to keep in our purse or backpack all day and night. It's the perfect travel size, making it easy to take with you for touch ups needed throughout your day. It's available in 6 different gorgeous and versatile color compacts featuring a mix of shimmer, satin, and matte shades. The versatile color options in each palette also make it extremely easy to switch up your look from day to night in the blink of an eye. Long-lasting and full of pigment, this will be your new go to palette.