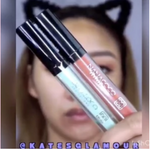 Color correction goes way beyond learning the color wheel in elementary school. Did you know that understanding how some colors coexist with other colors can actually help you get an even skin complexion? If you've ever watched a YouTube video teaching you how to color correct with makeup, it may or may not look intimidating at first, but it really is quite simple!
What is it?
In simpler terms, color correcting is using a color that is opposite of the color that you are trying to diminish or balance the look of.
The breakdown:
Green combats red: perfect for hiding redness on your face, like pimples, rosacea, and red acne scars 

Purple combats yellow: helps to brighten dull skin and removes yellow tones from the entire face

Orange combats dark blue/purple tones in deeper skin tones: good for dark circles, scars, hyper pigmentation; a peach color corrector is better used on lighter skin tones
 Yellow combats blue tones: good for diminishing bruises, veins, under-eye circles, blemishes with more of a purple hue
Beauty tip: Make sure to always have a clean face before you apply any corrector (or makeup in general). Prep your face with treatments, moisturizers, and eye creams to prevent your correctors/makeup from creasing or caking throughout the day.
 The Dos and Don'ts of Applying Color Corrector Concealer
Make sure to pick the correct color corrector shade that is meant for your skin tone. It will be trial-

and-error matching your blemish to the appropriate color corrector (read the rules 

above).


Start off by applying thin layers of the corrector that won't peek through your natural skin 

tone concealer or foundation (correctors are meant to be used as a layering product 

under your everyday shade of concealer and/or foundation).


Make sure to blend, blend, blend the color corrector as best as you can into your skin 

with your finger, beauty sponge, or detailing makeup brush. You will want the color 

corrector to be placed only on top of the blemish and not all over the face.


As stated above, we want to not only emphasize the importance of avoiding your color corrector 

peeking through your natural concealer and/or foundation, but it is also important to keep your 

correctors more natural in coverage. This will help prevent your liquid and cream 

products from looking cakey on top of the correctors.
Try our four colors correctors (part of our current HD Cover Concealer Collection) and thank us later! Shop here 
If you ever feel that you've made a mistake by putting the wrong shade of corrector on, no need to fret: wipe it off with our Nanacoco Pro Makeup Remover Cleansing Towelettes or completely blend it into the skin and put a light layer of concealer/foundation on top of it! Applying makeup is meant to be fun and it's totally OK to take risks. It comes right off!
Enjoy the weekend, beauties! Until next week.
Xo
--
As always follow us on our Instagram, Facebook, Twitter, Pinterest, and more!