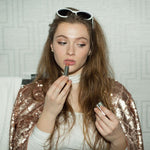 Now that 2019 is coming to an end, let's talk about three beauty trends of the year that we have been obsessing over. From minimalist makeup to monochromatic looks, this year has seen a wide variety of noteworthy makeup trends that may even still be prominent in the new year.
Minimalist Makeup 
Between nailing your perfect skincare routine and creating an effortless glowing look, a clean dewy face was a trend this year that we hope never goes away. The no-makeup makeup look is a perfect and simple way to show off and accentuate your natural beauty without all of those layers of heavy makeup. It's also great for those days when you are running late, or just want to give your skin a much deserved break. With the oh so popular glossy lid and lip combo, splurging on lip glosses and skin care this past year is definitely an understatement. 
A Bold Lip
As much as we all loved rocking our minimalist makeup look, another popular trend was a fierce lip. From glitter lips, the iconic red lip, to a black gloss, we've seen it all this year and we certainly were not disappointed. Whether you chose to sport a full beat with your bold lip or stick to the minimal makeup trend, but added a pop of color with a bold lip, it's safe to say this trend is certainly coming with us into the new year.
Monochromatic Makeup
Between fashion and beauty we've seen this monochromatic trend taken to the extremes and we can't wait to see a new take on this trend in 2020 because nothing beats a well coordinated and thought out monochromatic look. If you haven't tried out this trend yet, it's not too late! We love picking either our favorite product or color to start off our look and go from there. Our favorite way to create a monochromatic look is to use one product in multiple ways. For example, our GlitznGloss Lip Gloss in "Sweet Cinnamon" will give you a perfect glossy lid, lip, and can also be used for a dewy blush.