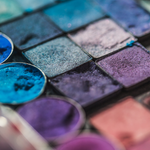 Nothing is worse than spending an ample amount of time on your eyeshadow, just to have it crease up....especially when you don't realize until later on in the day when you go to check yourself out (well...your makeup) one more time. Let's talk about some tips and tricks that will help you say goodbye to eyeshadow creasing, hopefully for good. 
First of all, you may be wondering what is causing your shadow to crease. If you have any excess oil on your lids, it will start to break its way through your eyeshadow to cause that creased look. This is why proper prep is super important, as well as applying your shadow with the right techniques.
1. Prep
Just like before applying your face makeup, you want to prep your lids. Use your favorite lid primer and pat a small amount onto both of your eyelids. This will help hold your shadow and prevent it from creasing by creating a smoother canvas. If you're prone to oily skin, you may want to then go over your primer with a translucent or setting powder to help absorb any excess oil. If you tend to have more oily skin opt for an oil-free eye makeup remover to make sure no excess oil is added onto your lids. Also, if you use any eye creams, try to use them the night before vs. right before you do your makeup. This will allow your lids to absorb the product so your eyeshadow isn't sliding off.
2. All about the layers
MUA @_blackcherrybeauty_ blew us away with her crease-free birthday glam!
You know they saying "less is more"? Well, in this case that's not 100% true. Sometimes you may see creasing because your shadow is too sheer. Applying multiple thinner layers will not only help to create a long lasting and highly pigmented look, but it can also prevent that dreaded creasing. If you really can't stop the creasing, it may be time to switch up your shadow. If you are using a cream based eyeshadow, try switching to a powder and see if it makes a difference for you.
3. Set
It's important to remember to finish off with a good setting spray to keep it all locked in place. Some people tend to spray their eyeshadow brush with setting spray before applying their shadow to help set it even more.  
Hopefully after reading this simple tips and tricks you are all on your way to crease free lids! Remember to tag @nanacocobeauty in your looks on Twitter and Instagram.