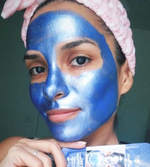 At Nanacoco HQ we are very passionate about skincare. Yes, our Innovation Team tests many products and formulas on a daily basis to perfect our evolving brand, but it's only when we come up with a formula yielding noticeable results is when it earns a spot on your vanities. 
If you are looking for a skin pick-me-up that will leave you with glowing results, peel-off masks are the way to go. Our Nanacoco Professional Peel-Off Glow Masks remove everything that has settled on the outermost layer of your skin, such as dead skin cells, oil, blackheads, and residue. 
Recently, we've received an overwhelming amount of feedback from dozens of our Nanacoco Crew Members that our Peel-Off Glow Masks have reduced the size of their pores, left the skin feeling subtle, and has given an all-day glow when used routinely. A few of our Content Creators have also expressed that our masks have gently removed unwanted peach fuzz on the face leaving the skin more radiant and polished. 
Regardless of your skin type or texture, we have a peel-off mask for you! 
  Black Pearl Revitalizing Peel Off Glow Mask
Benefits:
Infused with natural active black pearl
Restores skin's resilience
Improves skin's radiance
Unclogs pores
  24K Gold Firming Peel Off Glow Mask
Benefits:
Formulated with 24k gold
Brightens your complexion
Improves your skin's firmness and elasticity
Removes dead skin cells
 Glacier Water Hydrating Peel Off Glow Mask
Benefits:
Contains pure glacier water, rich with plentiful minerals
Leaves skin moisturized, smooth, and silky
Hydrates, soothes, and refreshes 
 How to use our Peel-Off Glow Masks: 
Apply an even layer to clean skin, avoiding eyebrows and hairline
Leave on for 20-30 minutes or once completely dry
Gently peel off the mask starting at the edges and rinse off excess with warm water or our new Micellar Water and/or Makeup Remover Cleansing Towelettes 
 Dos...and...Don'ts 
Use your tried-and-true Nanacoco Professional skincare products and gently clean your face to get rid of excess dirt, oil, residue, and dust 
Wipe your face with lukewarm water before applying the mask or give it a wipe with our Micellar Water 
Apply a thick layer of the mask right out of the tube evenly across your face, especially at the corners so it is easier to peel off at the end of your 20 to 30 minutes 
Oh, and be gentle! 
Don'ts... 
Don't apply the mask on your eyebrows!
Avoid the eye and mouth area
Do not rub your skin trying to get the pack off if it doesn't come out in one layer
Happy masking, Nanacoco Crew! 
xo