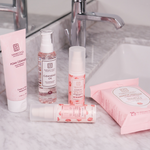 It's time to step up your skincare routine with Nanacoco Professional's brand new cruelty-free and vegan-friendly skincare line. All of these products are perfect for all skin types and will leave you with that radiant and dewy complexion you've been dreaming of.
Made in France, the Nanacoco Professional Radiance Glow Micellar Cleansing Water is super gentle on your skin, cruelty-free and vegan. It also features a very subtle and fresh floral scent. Removing 100% of waterproof makeup, this micellar water will leave your skin soothed and with a radiant glow after just one use. It's great for all skin types and textures and contains no alcohol, parabens, phenoxyethanol, or sulfate. The Radiance Glow Micellar Water is the perfect first step in our daily skincare routine. 
Special Ingredients:
White tea leaf extract- White tea extract repairs and protects your skin from damage and also has anti-aging properties, which will result in a younger looking complexion. It is also very rich in polyphenols and antioxidants.
Codium Tomentosum Extract- Known to rapidly hydrate your skin, codium tomentosum extract also balances out your skin's moisture. Unlike some other ingredients, codium tomentosum extract has a long lasting hydrating effect on your skin.
Formulated with sea silt extract to help purify and moisturize your skin, the Foam Cleanser will remove all makeup, oil and impurities without leaving your face feeling tight or dry. This k-beauty cream to foam cleanser will leave you with a super soft and glowing complexion. Nanacoco Professional Foam Cleanser is cruelty-free and vegan so you can feel as good as you look!
Special Ingredients:
Sea silt extract- Sea silt is one of the purest natural substances in the world. It's rich in beneficial ingredients like oxygen, purifying clay, trace elements, sulfur, mineral-rich sea salt and organic components. It protects your skin, while restoring your skin's energy.
Glycerin- Glycerin helps to treat oily skin conditions, like acne, skin infections, wrinkles and fine lines. It also attracts moisture to skin, acting as an emollient, making skin soft and supple.
It's time to officially say goodbye to dry skin! This Cleansing Oil is truly a life saver- especially during the winter when our skin tends to be much dryer than usual. This k-beauty, super lightweight, oil removes 99.9% of waterproof makeup with its vegan and cruelty-free formula. The subtle floral fragrance will leave you feeling like you're walking through a field of roses. 
Get a radiant complexion and lock your look in place with Nanacoco Professional HD Perfection Fixing Spray. Use as a primer before your makeup, to set your makeup, or as a hydrating rose mist to freshen up throughout the day. With its lightweight formula and subtle rose fragrance, this will be your new go-to spray to help you look refreshed and glowing for wherever your day or night takes you. We also love using this fixing spray, even when we aren't wearing makeup to get a natural dewy complexion.
Our best selling Makeup Removing Cleansing Towelettes are now available in a 20-piece bag of individually packed singles! These individual wipes are a complete game changer when it comes to convenience. Nanacoco Professional Makeup Remover Cleansing Towelette Singles are just what you need if you have an on-the-go lifestyle. These wipes are perfect to keep in your car, purse, backpack or gym bag. Made in Korea, they work wonders for all skin types! Not only do they gently remove 99.9% of all oil, impurities, and waterproof makeup, but your face will also be brighter and more moisturized than ever before. Formulated with lotus, peach flower, green tea, and rose extracts. These wipes are alcohol-free, paraben-free, sulfate-free, phthalate-free, vegan, and cruelty-free.