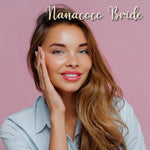 With wedding season ramping up again, 2020 has become, more than ever, the year of embracing your natural beauty and being confident in your skin. The Nanacoco Innovation Team worked hard in 2019 to come up with a vegan and cruelty-free skincare collection to complement our color cosmetics line because at the end of the day having healthy and glowing skin is the start of being outwardly confident.

Is Simpler Better?

With that being said minimalist makeup is nothing new to the beauty community and it showcases an individual's natural features and perfect "imperfections". But what about your bridal makeup look? The minimalist look may not be something that crosses your mind. As of late, there has been a strong shift towards simpler makeup looks -- especially in the bridal world.

The Minimalist

When creating the minimalist look, gone are the days of heavier foundation, super chiseled contour and highlight, and glitter eyes. Now, think of barely-there foundation and concealer coverage, light highlight on the high points of the face, and slightly glossy or tinted lips. Our new HD Perfection Liquid Foundation is a buildable medium to full-coverage with a soft velvet matte finish that will give you that naturally flawless skin.


Rosy Cheeks

Want to kick it up a notch? Apply a dusting of blush to the apples of your cheeks to give you a youthful look. Have you tried our HD Pressed Blushes?! With its silky smooth texture, this blush will blend evenly and glide effortlessly across your cheeks.


Fluffy Brows

Gone are the days of "Instagram Brows" or sharp carved brows. Hello, laminated extra fluffy brows! Don't have time or money to give your eyebrows a perm, take use your Browstylers Micro Pencil and feather your eyebrow hairs up to achieve a soft yet powerful brow. Run the Browstylers Brow Mascara through the brows to keep them from falling throughout the day.


Bronzed Eyelids Instead of Smoky?

Say goodbye to taupe, rich brown, and purple bridal tones and trade them in for a beautiful bronzed lid. Our Eyeshadow Quad Palette in Elegant has the perfect mix of bronze, gold, and rose gold shades, giving you a glowing neutral look.


Tinted Lips

Trade-in your matte liquid lipstick for a lip tint, like our Tintalizing Lip Tint in the shades 'For Fame' or 'Sorbet', and gently dab the formula on the lips. Lip tints are a goof-proof product to add a simple touch of color to the lips without having too heavy of a lip!


Whether you are a full glam or minimalist bride, the Nanacoco Team wishes you many years of love and happiness! With makeup, there are no rules! xo