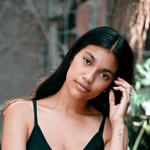 We've all had more mornings than we would like to admit where we truly just look run down with those unwanted dark circles under our eyes. Some people naturally have dark under eye circles, but most of the time it's due to dehydration or lack of sleep. So, what's the best way to cover up those dark circles? Keep reading to learn all of our tips and tricks.
Always prep your face
Whenever you go to do your makeup, you should always prep your skin before hand. Prepping your skin first will allow your makeup to apply more smoothly and blend better. Before starting with your color corrector prep under your eyes by applying your favorite eye cream. 
Use a color corrector
Color corrector is used to fix and discoloration your face may have, like dark spots or redness. Here is a breakdown of some different color correctors and what they are used for:
Green- Use a green color corrector to combat any redness.
Yellow- This is best to cover any purple tones; like veins, bruises, or even under eye circles.
Orange/Peach- This is your best option for correcting blueish dark under eye circles. If you have darker skin, opt for an orange. If your skin is lighter, it's best to use a peach color corrector.
Purple- If you have any sallowness or yellowness, a purple color corrector is the best option.
Choosing the right concealer
When using concealer for under your eyes, you should be using one that is a shade lighter than your skin tone. Our favorite concealer is our HD Cover Concealer. This concealer not only is cruelty-free, but it is also gluten-free and vegan. Suited for all skin types, it offers full buildable coverage while not drying out your skin. Formulated to soften the look of pores and fine lines, this concealer will be your new best friend.
If you are looking to fix your dark circles, without the use of makeup, we definitely recommend looking into getting a good eye cream that is specifically for reducing dark under eye circles.