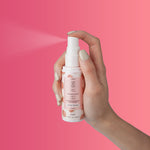 We are so excited to be able to introduce to you a new addition to our product line- Nanacoco Professional HD Perfection Setting Spray! Even though it is not officially launching until January 2020, we've decided to give you all a little sneak peak and exclusive first try.
So, what really is the purpose of setting spray and does it actually work? 
You may remember those days of spraying hairspray on our faces to lock in our makeup for the day. Well, thank gosh that's a thing in the past and now we have an actual setting spray. Setting spray is basically hairspray, but made to go on your face to keep your makeup looking fresh all day. If you want your makeup to stay in place and not have to lug around extra product with you to do touch-ups throughout your day, then you should definitely think about purchasing a good setting spray. After all, who really wants to spend all that time and effort perfecting their makeup, just to have it wear off?
Meet Nanacoco Professional's HD Perfection Setting Spray:
Brighten up your complexion and get a gorgeous glowing and long lasting finish with Nanacoco Professional's cruelty-free and vegan HD Perfection Setting Spray. Made in Korea, this super lightweight spray has subtle rose fragrance. It is formulated to help protect your skin from pollution and any dirt that may clog your pores. It will keep your makeup from smearing, smudging, or fading throughout the day. The best part is that this setting spray is the perfect size to throw in your purse in case you want a refresher later in the day, or even just want to embrace the subtle rose scent.
How to use:
To get the best results, hold your bottle of setting spray 6-8" away from your face, close your eyes, and mist lightly after applying your makeup. Make sure to always allow your setting spray dry naturally.
A little trick that we like to use is spraying our brushes or sponges with a tiny bit of setting spray to make for smooth application that will further increase the longevity of your makeup. Using this trick with your eyeshadow brush, will also help your shadow to look much brighter.
Don't forget to sign up for our email newsletter to stay connected and be the first to know about all of our other new product launches coming in 2020!