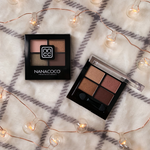 Bring on the holiday parties and fun festivities! We love being able to dress up and get decked out in sparkles during the holiday season. Now's the perfect time to start gathering some major makeup inspo for all of your upcoming holiday events and make sure that you have the right products to help you end this decade looking your absolute best. Here are our top 10 products you need to create an eye catching and memorable holiday look.
For only $12, this luxurious travel sized palette is a steal! With four highly pigmented shimmer, satin, and matte shades in each palette you can easily switch up your look from day to night even while on the go. A gorgeous shimmering shadow is always a must for every holiday look!
Create an effortless wing with the Longwear Eye Liner. Not only is this liner water-proof and highly pigmented, but it is also vegan! Fade-proof and smudge-free, this creamy formula will keep your liner looking fresh and on point no matter where your night takes you. We love using the Longwear Eye Liner in Navy and Silver for an icy holiday look.
Looking to create a more dramatic and bold wing? The Boldest Liquid Eyeliner will allow you to draw thick flawless lines, no matter what your skill level is. With a quick-drying formula, your liner will last up to 24 hours. Look good and feel good because this liner is cruelty-free and vegan.
Our Shimmertallics Metallic Lip Gloss is definitely our favorite product for anytime you want to add a multidimensional and jaw dropping sparkle to your look. Available in 6 gorgeous shades, this gloss is perfect for all of your holiday parties. Wear as a lip gloss, highlighter, or even an eyeshadow for a stunning shimmering and light-reflecting glossy lid. 
Get a glamorous, highly pigmented glossy lip with one swipe! Due to the buildable coverage, wear it alone or as a topper with your favorite lipstick. Our go-to colors for this holiday season are Sweet Cinnamon and Pleased. Since our GlitznGloss Lip Gloss has a super lightweight and non-sticky formula, we also love using it to add a dewy flush to our cheeks or a pop of color for a glossy lid.
Cause who doesn't love a long-lasting and moisturizing lipstick during the colder weather? With high pigment and a stunning satin finish, the Liptastic Lipstick is perfect for everyone. Whether you're searching for a subtle nude, a bold red, or a dark purple, Liptastic Lipstick has you covered.
Accentuate and show off your best features by using our Contouring & Strobing Palette to define, add dimension, and illuminate. Available in Light, Medium, and Dark; each palette features 4 shades with a satin finish. Not only is this a customer favorite, but it has also been seen on Rita Ora at the 2019 Met Gala and Dove Cameron at the Oscars Vanity Fair After-Party 
Now we are talking major sparkles! Add an illuminating and highly pigmented sparkle to every holiday look. Use the Glitzn Face & Body Pigment on your eyes, face, or even body to leave you shimmering all night long. 
Tip: If you want a more subtle color use a dry brush to apply your Glitzn Face & Body Pigment. If you are looking for a bold vibrant color, wet your brush before applying.
We've found your perfect match! 
The HD Perfection Liquid Foundation gives you natural, yet buildable to full coverage. This long lasting and water resistant formula leaves your skin with a velvet smooth matte finish. Perfect for all skin types and available in 12 gorgeous matte shades.
Use the liquid foundation with the HD Perfection Powder Foundation. Made in Italy, this luxurious soft and silky powder is fragrance free, paraben free, and contains vitamin E. Formulated with special Mica coated with amino acids, allows for this soft and silky texture and full coverage. Included in the compact is a super soft puff to allow you to easily blend powder on the go for a luminous, and natural finish.
Add intense shimmering pigment to your lids with our Eyelusive Eyeshadow Pencil. It delivers a weightless, creamy formula packed with ultra shine to completely transform your look. This easy-gliding and super smooth pencil acts as a versatile tool for eyelid primer, eyeshadow, or a highlighter. Illuminate the inner corners of your eyes, your brow bone, the high points of the cheekbones, and the bridge of the nose, for an extra glow all day and night. This buttery smooth formula is available in 6 stunning shades.