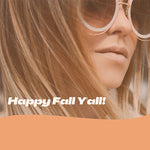 Summer 2020 is long gone and we are now welcoming fall fashion and beauty. We are transitioning from oversized eyebrows and extra bronzed skin, and choosing makeup that may be brighter than usual for this season (...but will still complement a darker wardrobe). There are still some tried-and-true trends that will continue to make their way back every fall, but mostly, we will be incorporating some new out-of-the-box trends. 

Green/Emerald Eyeshadow 


Accentuating your eyes with gorgeous green, emerald, and olive eyeshadow shades is the way to go this fall! These "mermaid green" shades will give your eyes an updated feel to your typical brown and taupe colors.

'Retro' Eyeshadow Quad Palette 
'Autumn' Eyeshadow Quad Palette 
Light Brows 
We are so used to seeing mega, extra fluffy, and/or laminated brows that it may come as a shock that we are bringing back the lighter, less bold, brows. Celebs like Gigi and Bella Hadid, Rita Ora, and Rihanna are embracing more natural brows with a straighter and less arched shape.

Instead of using our pomade to accentuate the brows we will be using our Micro Pencil to lightly pencil in our brows. 
 Smokey Blues
Sorry, Nanacoco Crew! Whether you love or dislike the blue eyeshadow trend, it is here to stay! This fall 2020, your smokey eye looks will get a bit more colorful. Incorporate a cobalt blue eyeliner to any look to brighten up your night. 

Longwear Eye Liner


Hot Pink?!
This may be a first, but incorporating hot pink into your fall fashion and beauty looks is super trendy this fall 2020! Add a pop of pink to your lid or waterline with a more subdued lip and you are good to go! 
Use our ultra-pigmented HD Pressed Blush in 'Fuchsia' as an eyeshadow or smudge it into your waterline. 
Our blush is able to be sheered out or worn super opaque!  
Social Media Eyes 
Yes, we are bringing those "instagram baddie" eye looks that our influencers take pictures of to life. Some of the eye trends that are defined as ultra-creative social media looks are: 

1) Incorporating glitter or shimmer to your lids 
2) Floating white liner
3) Creating silhouettes around the eyes with your fine tip eyeliner
4) Creating a watercolor effect with your eyeshadows 
5) Adding jewels around the eyes 
Under Shadow 
We are all about a smoked out shadow under your waterline! Add your favorite shadow to your bottom lashes and then go big with some extreme falsies to the top lashes for balance.
'Futuristic' Eyeshadow Quad Palette 
'Vibrant' Eyeshadow Quad Palette
Extreme Lashes in the style 'Nora' (4D)


Super Shiny Gloss 
Glossy lips are a staple in the summer, but what if we told you that you can rock super shiny lips even in the fall?! Stars like Chrissy Teigan and Kim Kardashian aren't afraid to push boundaries and transition trends from season to season. 
In the early 2000s, a look was not complete without a super glossy lip. Make your pout look extra plump with a great gloss. 
'Touch of Fall' Glitzn Gloss 
'Delightful' Glitzn Gloss 
'Mocha Madness' Glitzn Gloss
The Tried-and-True Dark Lip
Burgundy, brown nude-ish, and rich red lips are ready to be worn! You know we had to add this trend to our list.
'Autumn Leaves' Lipfinity Lip Creme 
'Boss' Magnumatte Lip Crayon 
'Tea Time' Liptastic Lipstick 
'Guilty' Matte Madness Lipstick 
--
As always, makeup is temporary and can be applied however you wish! Feel free to be your most creative this fall 2020! 

xo 
Nanacoco Team
Visit our Instagram for more fall looks!